Location: Brae Street, Coorparoo, Brisbane 
Client: No client. Personal Development Project.
Brief: The project involved a raise and build under, transforming the home into a traditional American Farm Style family residence.
Key Elements:  The home features 4 bedrooms, all with built-in robes, 3 bathrooms, a powder room, an open-plan kitchen, living, and dining area, a mudroom, and a work-from-home office/5th bedroom.
This charming old girl in the leafy suburb of Coorparoo underwent a transformative raise and build-under renovation, becoming a beloved favourite amongst our followers.
This was a passion project for Rachael back in 2017/18, to truly encapsulate the American Farm Style aesthetic that she adores, something that had not really reached our Australian shores yet, so very much one of the first of its kind that we know of in Queensland, if not all of Australia.
This gorgeous home swiftly found a new owner when it hit the market, being acquired by Brisbane Lions Captain, Lachie Neale, and his wife Jules.
Radiating Rachael's signature curb appeal, the house is a true visual delight with layers of texture—from weatherboards to board and batten, to shutters and farm-style fencing, creating a showstopper that captures attention and admiration.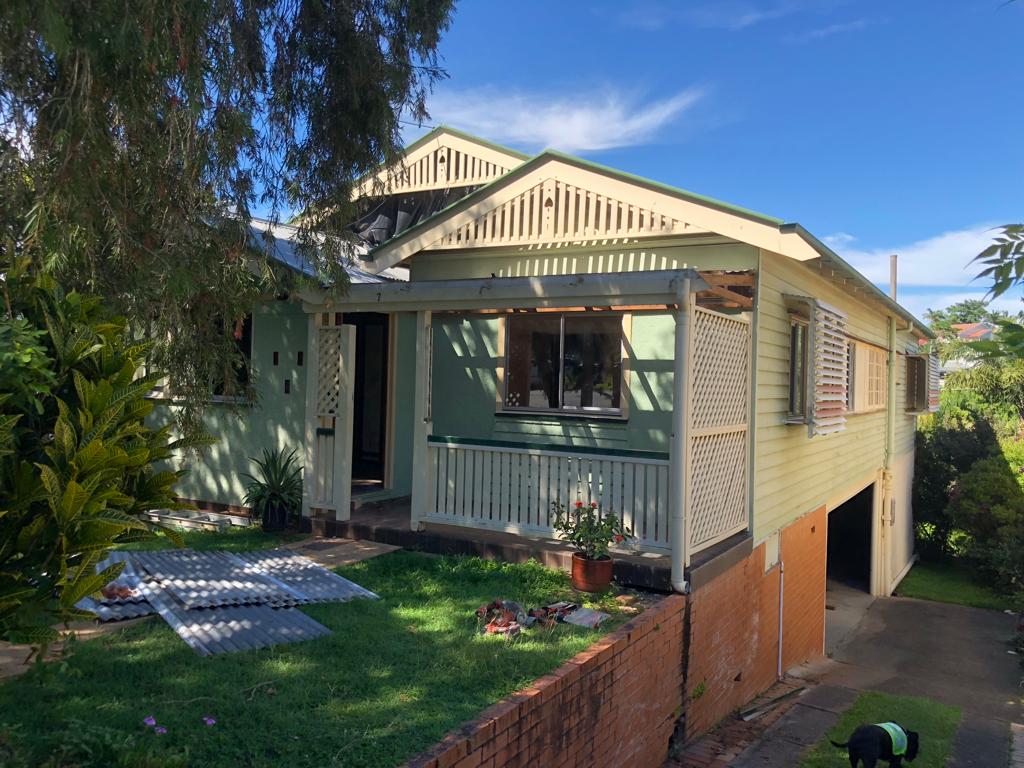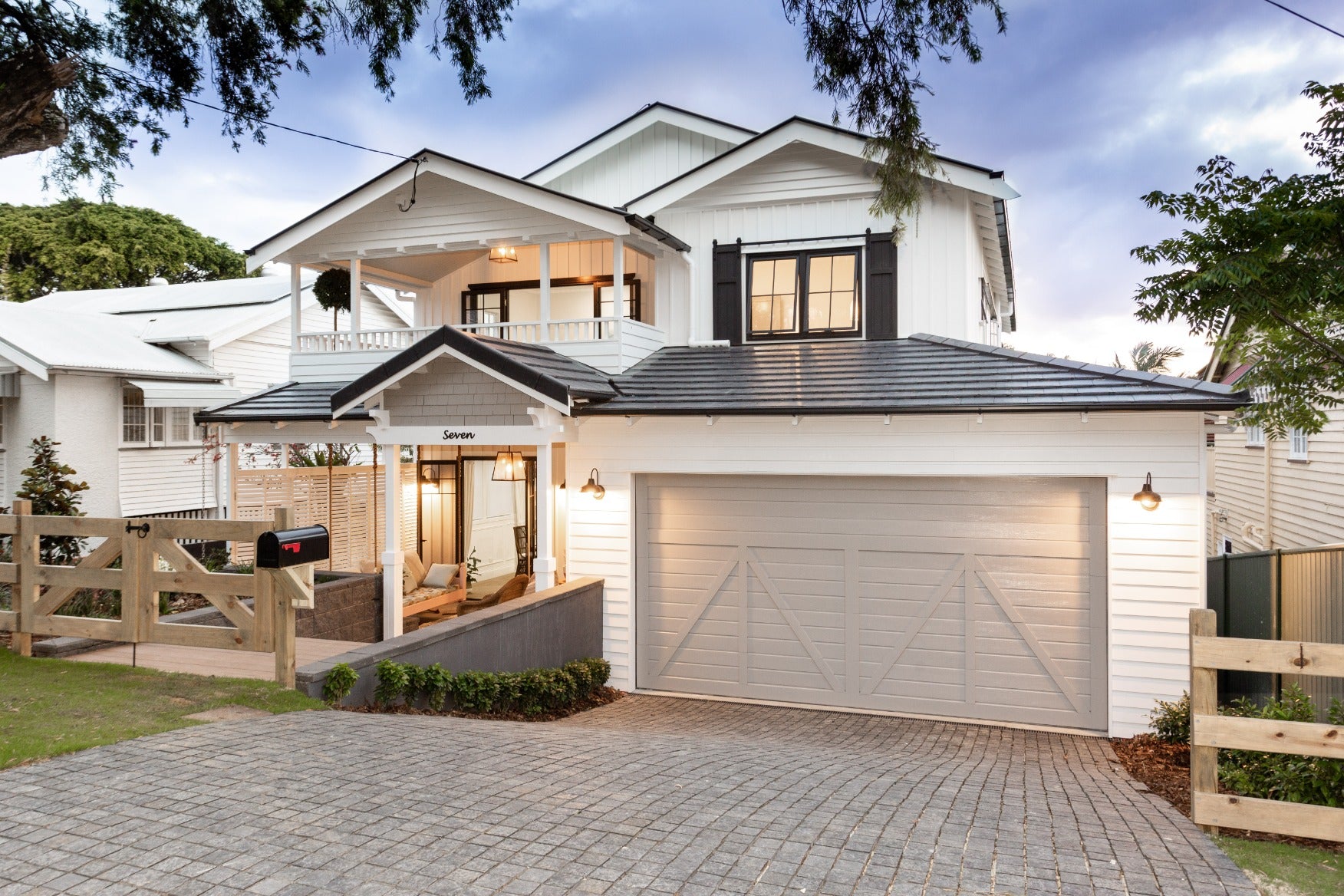 We created a beautiful gabled portico entry and welcoming front porch area, complete with a custom pink daybed, to highlight the charm of the traditional American Farmhouse Porch.
Our Oaklands Stable Door is an absolute standout on the front porch. There's nothing quite like a fresh and brightly coloured front door to say, "welcome home."
There's a distinctive warmth to a farmhouse kitchen, especially with its traditional freestanding island. The quaint butler's pantry, adorned with a reclaimed timber door, adds a truly beautiful and unique feature to the space.
If you're looking to capture the essence of a farmhouse kitchen in your own home, reach out to us at Cabinetry by Front Porch Properties.
The open-plan dining and TV room boast beautiful warm wood tones, a casual window seat perfect for cosying up with a book, and a character stone-clad fireplace. A beautiful gathering place for the whole family.
The laundry and mudroom are both hardworking spaces but still so welcoming. If you're considering upgrading your laundry or entryway, feel free to reach out to us at Cabinetry by Front Porch Properties.
The bathrooms seamlessly blend rustic charm with modern comforts. Rachael incorporated textural elements through a mix of wood features, feature tiling, shiplap cladding, and quaint lighting.
Designing playful and enjoyable kids' bedroom spaces was a delightful and enjoyable part of the project for us.
The master retreat is truly a haven, boasting its own private balcony and seating area plus a beautiful walk-in robe.
The work-from-home office opens out onto the covered front porch, inviting in beautiful breezes, creating a really lovely work space.
We embrace every design opportunity, as seen in this feature sun spot at the top of the stairs.
The back of the home underwent a remarkable transformation, transitioning from unwelcoming and dark to a redesigned, seamlessly flowing space that extends from indoors to outdoors. Now, it stands as an entertainer's dream with a BBQ, outdoor comfy seating, dining area, fire pit with built-in bench seats—all overlooking a beautiful sparkling blue pool, complete with a pool cabana.
Major retaining walls were necessary in the backyard to accommodate the steep slope and the installation of the new pool.
This home captured significant media attention and it continues to hold a special place as one of our all-time favourite projects. For a personal tour of this gorgeous project, you can watch Rachael's video here.